RevOps Team Size Calculator and Hiring Guide
In this calculator and the accompanying guide, you can find:
#1 How many people do you need in your RevOps team to support the GTM operations of your company?
#2 Detailed guidance on who to hire and when for different team sizes and configurations
#3 Our secret sauce revealed - what is the logic that feeds the calculator? How can you use this to navigate conversations with finance?
Current FTEs
To be hired in the next 12 months
Demand gen / growth marketing / events marketing
To be hired in the next 12 months:
To be hired in the next 12 months:
To be hired in the next 12 months:
To be hired in the next 12 months:
To be hired in the next 12 months:
How busy is the current team?
REVOPS TEAM SIZE
You need 0 FTEs to support the operations of your go-to-market team.
You got your result, now what?
How to decide who to hire and when
Each organization will have unique circumstances that they have to account for as they decide how many operations pros to hire, how to decide who to hire and how to structure your team.
This guide lays out the considerations you can take to make the right capacity and hiring decisions for your team.
Growing
Teams with 4-6 RevOps pros
Mature
Teams with 7-10 RevOps pros
At Scale
Teams with 10+ RevOps pros
RevOps Team Size 1-3
Based on your current GTM size, team bandwidth, and projected growth over the next year, now is the time to hire your core RevOps team, starting with your

RevOps leader (Director/VP)

.

From there, you can add 1 or 2 flex hires with a

RevOps Analyst

or

Systems/CRM Admin

based on your team's current to medium term needs.

These core hires will help set the foundation for RevOps in your organization, allowing for future scale and repeatability in your GTM processes.
Hiring Guide for RevOps Teams Between 1-3 People
Director of RevOps

RevOps Analyst

Systems/CRM Admin
Director, RevOps:
This is your foundational RevOps leader. They will be tasked with building both a strong RevOps team and building the baseline processes that will drive growth across Sales, Marketing, and CS.
Qualities and Skills:
Strong generalist
Confident decision making - Able to make vital, forward-thinking decisions
Authority - Can effectively communicate decisions to Senior/Executive leadership
5+ yrs experience in RevOps
Startup experience (guiding a revenue org through multiple growth stages)
When/why to make this hire:
As soon as your GTM org begins growing and hiring
The longer you wait to make this hire, the more difficult it will become to establish scalable processes
Getting a RevOps leader in at the ground floor will help with long and short term GTM strategy, data collection/maintenance, tech stack optimization, and change management
RevOps Analyst
Your RevOps analyst (esp. at this stage) will be your go-to team member for execution on projects, fielding requests from the GTM team, and helping to maintain and analyze your data. This will likely be a junior hire with limited experience in the space but someone who is ready to learn and grow their career in the RevOps field.
Qualities/Skills:
Comfortable with data/numbers
Eager to learn and a desire to grow a career path in RevOps
Proactive in surfacing issues and identifying gaps in processes
Self sufficient but knows when to ask for help
Adaptable to rapid changes
When/Why to hire:
If you are scaling up your GTM team and need day-to-day RevOps support
If you are approaching or just landed a new round of funding and your Director will be bogged down in Board decks/meetings
If your Director has the bandwidth to help grow a Jr. employee to be a foundational RevOps team member
Hiring a RevOps analyst early on will allow for this junior employee to grow with the business and accrue invaluable internal knowledge as you scale
This hire will free up your RevOps leader to focus on long term growth without getting bogged down in the day to day fires
Systems/CRM Admin
This will be the owner of your GTM Tech stack and their integrations with any and all other systems used by the Org. They will need to coordinate the infrastructure of your systems (Salesforce, Hubspot, etc) to accommodate ease of use by the various end users and also ensure that it is designed to accumulate accurate and usable data.
Qualities and Skills:
Proactive in identifying areas for system optimization
Self-directed - can take full ownership of systems early on
Very detail oriented and effective in documenting processes
Understanding of the RevOps landscape and the needs of various GTM teams
Forecasting and RevRec experience a plus (depending on your complexity of sale)
When and Why to Hire:
If you already have a complex tech stack with multiple integrations
If you are about to make a large tech purchase such as a CRM/CMS and need a skilled person to implement it
If your sale involves heavy deal desk approval logic, requiring a CPQ software
Hiring a Systems/CRM admin will ensure you are getting the most out of your systems and are making informed decisions when purchasing new technology
This hire will also help to ensure that you are equipped with clean and accurate data to make important GTM strategy decisions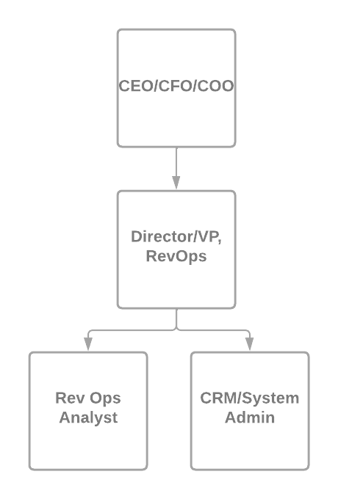 RevOps Team Size (4-6)
Based on your current and projected GTM team size as well as your current team bandwidth it is time to start providing your existing RevOps team with some additional support (or getting started on building it out if you are still lacking the first hire).

At this size you should have a VP or Director

level leader of your RevOps team and if not that should be your very first hire.

Additionally, you should likely have either a

RevOps Analyst or Systems/CRM admin (or both)

, if not see the guidelines below to plan out those hires based on your company needs
Enjoying this resource? Continue reading... access the full guide below 👇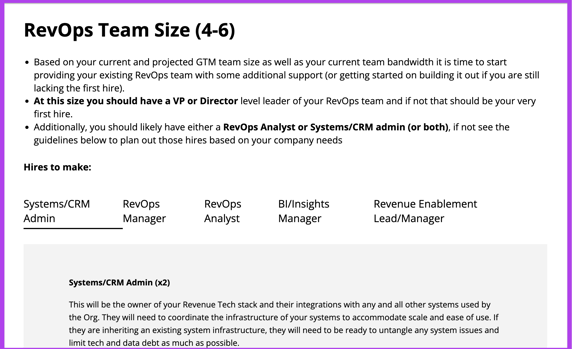 Get the full guide
Enjoying this resource? Access the full guide for free, including RevOps team sizes between 4 to 6, 7 to 10, and 10 plus and full explanation of the logic behind our calculator.
Each team size bucket has unique considerations and team configuration options.
We outlined everything you need to know to make the right capacity planning, hiring, and team structure decisions